Poultry Bedding in Staffordshire & Surrounding Areas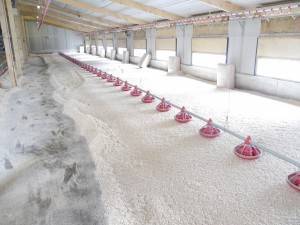 P.H. Winterton has been supplying poultry bedding in Staffordshire and surrounding areas for over 20 years we can offer a range of materials and solutions for your bedding needs. Having the correct poultry bedding is absolutely crucial for the happiness and health of your animals, and we have some fantastic options for you at amazing prices.
The Most Effective Poultry Bedding in Staffordshire
We currently have two types of poultry bedding that we can supply to all surrounding areas – the Soft-Dust and Economy bale wood shavings. Both of these have proven to be exceptionally useful for poultry and egg production due to their fantastic natural qualities.
Our sot-dust wood shavings are guaranteed to keep your poultry happy with a comfortable and cosy place for the chicken to lay their eggs in nest boxes. Along with this fantastic quality, this bedding is extremely absorbent to remove wet areas and produces less dust to reduce respiratory problems – this helps to keep poultry at optimum health and encourages scratching (a natural poultry behaviour).
If you are looking for something that's cost-effective however remains high-quality characteristics, our Economy bale will be your best bet! This bedding has been a particularly popular option for poultry bedding in Staffordshire and surrounding areas due to the several benefits it offers… The mixture of soft and hardwood shavings which have been carefully cut to reduce injuries, and we know that your chickens will love the comfort and warmth of this bedding!
Just like the soft-dust, this bedding is double dust extracted to reduce respiratory problems and is cleverly designed to not irritate your animals. Combine this with the natural temperature neutralising and easy to clean features and you won't have to worry about your animals going warm or cold throughout the year!
Contact Us To Know More About Our Bedding
To make sure that you get the best experience from our range of poultry bedding, all bulk and baled products can be treated with an anti-fungal solution.
This solution can help control:
Salmonella
E.coli
Campylobacter
Aspergillus
Candida
To know more information about other areas we supply to such as Derbyshire & Cheshire, please contact us today and we can help you with any enquires.