Equine Bedding
Our Equine Bedding – Top Choice for Horse Bedding in Staffordshire!
We all know how much we depend on a comfortable night's sleep, so why should your horse bedding in Staffordshire be any different for your equine? Here at P.H. Winterton and Son we aim to provide you with top quality shavings that make cosy, warm and dry equine bedding whilst also maintaining the affordable, economical factors that are so important to us and to you.
We keep large quantities of horse bedding at our site in Staffordshire meaning we can supply between one and 18 pallets; dependant on your needs. The British weather is unpredictable which is why we also offer outside storage covers to protect against adverse conditions.
If this is your first horse take a look at our tips about making your stable as welcoming as possible, in our blog.
We offer two types of top quality horse bedding in areas such as Derbyshire, Cheshire, and Staffordshire: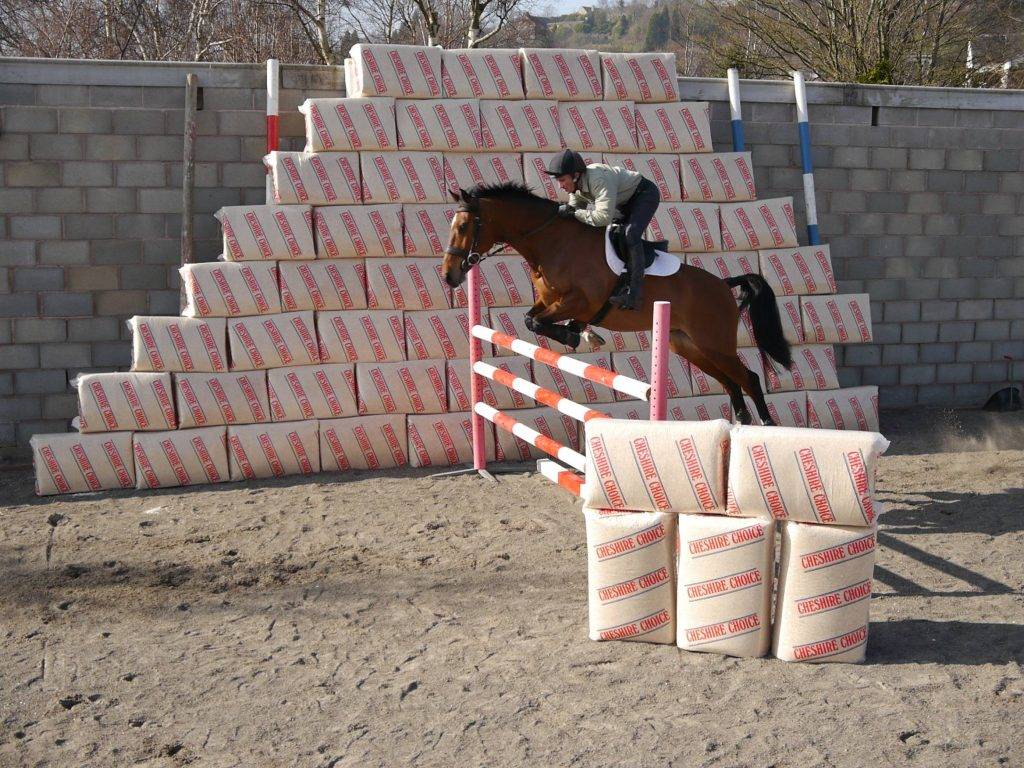 Cheshire Choice Equine Bedding:
The premium, high-quality Cheshire Choice equine bedding is guaranteed to give excellent results consistently.
This is one of the only makes of horse bedding in Staffordshire that is made of 100% soft wood shavings which means that it provides the ultimate comfort for your horse, whilst at the same time lasting longer because of the high standard of quality. The absorbency levels of the bedding are also excellent, guaranteeing that your horse has a dry and comfortable home. Our unique Cheshire choice equine bedding is also temperature adjusting meaning that it will stay warm in the winter and cool in the summer.
We also keep our Cheshire Choice horse bedding in Staffordshire free from chemicals and free from dust to help prevent illness and respiratory problems, both for your horse and for yourself. Quantities start from one pallet (40) to 18 pallets (720), and outside storage covers are available on request for weather protection. Overall, we can say confidently that choosing Cheshire Choice equine bedding is the best decision you could make with regards to the comfort and happiness of your animals. If your animals are happy, we're happy!
Economy-Bale Equine Bedding
Our Economy-Bale equine bedding is a fantastic choice for a lower cost, economical bedding solution that still provides your horse with a comfortable, warm bed but doesn't break the bank. This is one of the most affordable horse bedding in Staffordshire and is double dust extracted, so the shavings are hygienic. This also ensures that the shavings won't cause undesirable respiratory problems for you or your horses. The shavings are a mixture of both hardwood and softwood, so it's easy to clean out your stable, they can also be used with rubber mats. Our Economy-Bale bedding is highly stocked due to its popularity and high demand, so you will never have trouble ordering. All in all, our Economy-Bale equine bedding is highly convenient, easily affordable and it is guaranteed to make your horses happy.
Zebra Fibre Animal Bedding
P.H Winterton and Son are proud to stock Zebra Fibre animal bedding, which is extremely popular as equine and cattle bedding plus it is regularly used in the industrial sector. Zebra Fibre animal bedding is very absorbent giving minimal risk of abrasions for your animals. We stock Zebra Fibre bedding in 48-60 bales per pallet, plus they are stored in all-weather bags ready for purchase.
Horse Bedding Maintenance
Here are four ways you can maintain your horse bedding and keep your horses happy –
For daily maintenance use a pitchfork to remove manure and damp areas of bedding
Remove the waste material by shaking the fork, which allows dry material to fall back to the floor
Your waste material can be decomposed to form garden fertiliser or compost
Because you are only getting rid of waste bedding, you can top up using less bedding, which will ultimately be more cost-effective
Find Out More About Equine Bedding From P.H. Winterton and Son
If you are interested in either our premium horse bedding in Staffordshire such as Cheshire choice bedding, poultry bedding, or our economy-bale equine bedding, please do not hesitate to contact us today for more information.