Sawdust
Sawdust from P.H. Winterton and Son
As sawdust is used as animal bedding regularly in the dairy industry, we understand that it is highly important that the wood shavings we sell is of only the highest quality possible to ensure that it does not create any health problems for the cows such as abrasion to the udders. We, therefore, promise to produce a consistently excellent quality of sawdust that you can rely on time and time again to be safe and hygienic. Currently, we offer 2 types of high-quality sawdust:
Our Soft sawdust is an excellent quality product that is ideal for use as animal bedding in dog kennels, catteries, cubicles, stables, or poultry areas. It can also be used to deal with general spillages. It is 100% softwood and kiln dried which makes it highly absorbent and therefore available for multiple purposes. Its absorbency also ensures that your animal's environment remains dry and clean in between cleanouts. Overall,  with P.H. Winterton and Son soft dust, your animals are guaranteed to be comfortable and happy.
As a growing and improving sawdust brand, Agri-Dust is now the most popular product for dairy farmers throughout the UK. The grain size is screened to 3mm or less and is of the highest consistency quality-wise, which helps to avoid abrasion of the udders. It also helps to prevent the development of mastitis infection. Our processing factory provides pre-packed 20-21kg bales for easy storage, and the product is also available in a finer dust size called Agri-powder.
In addition to providing high-quality sawdust for agricultural uses, we also provide wood shavings which is perfect for use within the home as pet bedding. Whether you have guinea pigs, gerbils, rabbits or hamsters, sawdust from P.H. Winterton and Son guarantees to provide a soft and warm bedding that can be easily cleaned out to ensure that your furry friends are living in a hygienic, safe and comfortable environment.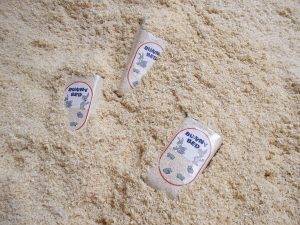 Find Out More About Sawdust From P.H. Winterton and Son:
If you would like to find out more about any of the sawdust that we offer here at P.H. Winterton and Son, please feel free to contact us directly today.